September: Fan of the month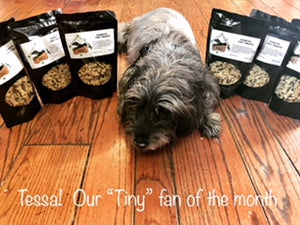 Tessa is 13 years old and our September Old Dog Cookie fan of the month!  Her mom wrote us this note:
"Tessa was diagnosed with liver disease, Cushings disease, and diabetes a year ago and needs insulin shots twice a day. 
We order your (tiny) treats in bulk (see photo of Tessa in bliss when her shipment arrives).  They are the only treats she can have on her strict diet, which includes special home cooked food along with other natural remedies.
Tessa's blood sugar levels finally seem stable and her liver disease and Cushings are also controlled.
Tessa gets her diabetic tiny treats after each insulin shot and whenever she goes outside to take care of business.
Her treats really make her happy and make her unbearable diseases more bearable.  She loves them!!  And the tiny size is just right for a 25-pound old dog. 
Thank you so much Old Dog Cookie Co.!! - Claire