March: Fan of the month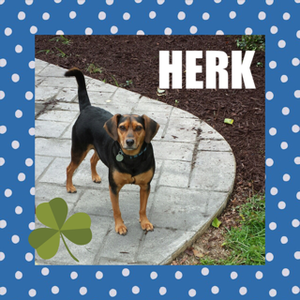 Our March fan of the month is Herk and we would say he's one lucky pup!  Without a doubt we have some of the most caring customers!
Here's an email we received on St. Patrick's Day:
"Just a note to tell you how much my dog Herk loves your TINY diabetic treats!  Before he was diagnosed I had been buying the small five calorie Milk Bone treats, so he was used to the small size.  The first time I opened Old Dog Tiny Diabetic treats from Amazon he went nuts and couldn't wait for me to give him some!  I was happy that some of the Amazon reviews mentioned ordering direct to get bulk pricing because it really saves a lot of money (BUY6SAVE).
To give you some background on Herk, seven years ago my husband and his daughter found him by our airport where someone had dumped him.  He was covered in ticks, fleas, and mosquito bites.  My husband flew the C-130 Hercules (the mighty Herk) in the Air Force and since he was found by the airport we decided to name him Herk!
Thank you for your prompt shipping, I was impressed.  Herk goes nuts when I open the bag (of Old Dog Tiny diabetic treats), it's such a hoot to see him dancing around on his hind legs.  Thanks again for a great product as Herk's most recent glucose curve was perfect." -C.G.
We, Old Dog Cookie Co. would like to thank Herk's humans....for having the kind heart to save him, for taking the time to write into us, and for serving our country.