'Top Dog' Movies to Watch this Summer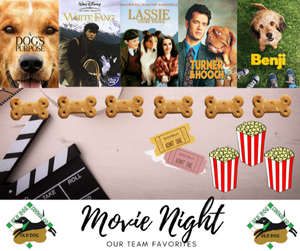 Memorial Day is the unofficial kick off to summer.  Usually this is a busy time for movie releases.  Due to social distancing, many of the anticipated block buster movie releases are put on hold or delayed.  Luckily for you, the Old Dog team has come up with a list of our favorite dog themed movies.
With a mix of classics, and family favorites, we have you covered.  Break out the popcorn and a few Old Dog Tiny Treats for your pet and binge watch our favorite movies.  They also make great movies to watch with grandkids.
Lassie Come Home
This 1943 classic movie has a special place in my heart.  Growing up our family dog was named Laddie and she was one of Lassie's puppies.  My mother won her in a national essay contest and she was shipped to us in Maine.  Laddie was a wonderful dog and was always by my side.  Here is a picture of Laddie when I was about 10 months old.  A
The original Lassie Come Home is available on Amazon Prime to rent.
A Dog's Purpose

This 2017 movie has quickly become a favorite in my daughter's house.  In this movie, Bailey narrates about his life and his discovery that his purpose is more than having fun, it's about helping, friendship, and living for today.  Our granddaughter regularly watches this movie and it's sequel; A Dog's Journey.  Both movies are available On Demand and on most streaming services.  While it's a happy movie, you may want a few tissues on hand.
Turner and Hootch
 This feel good movie stars a young Tom Hanks as a police detective Scott Turner and Hooch, a large drooling and lovable mutt.  The movie is a mix of comedy and thrills with a little romance thrown in.  Its currently available to rent on Amazon Prime.
Best in Show
Comedian Fred Willard will likely always be remembered for his hilarious role as Christopher Guest offering color commentary on the Mayflower Kennel Club Dog Show.  This mockumentary comedy film has subtle humor and anyone who has watched or been to a dog show will enjoy it.  It is available On Demand and Amazon Prime.
White Fang or Call of the Wild
Both movies are based on Jack London's famous novels.  The 1991 White Fang Movie stars Ethan Hawke and is a wonderful tale of survival and courage in the Alaskan frontier.  The movie uses a real dog and not CGI.  The new 2020 Call of the Wild starring Harrison Ford is brought to life using CGI and is fast paced and action packed.  Both movies can be watched with the family.  The 2020 movie is available On Demand and the 1991 move is available on Amazon Prime to rent.  You can also watch the new animated version of White Fang on Netflix.
Benji
Netflix recently did a remake of Benji.  Both of our grandkids enjoyed this updated movie.  In the movie a brother and sister become friends with a stray dog named Benji.  As expected, the children get into some trouble and Benji comes to the rescue.
 Far from Home: The Adventures of Yellow Dog
There are many adventure movies of dogs trying to get home.  In this 1995 film, a teenage boy and his dog are shipwrecked on the remote coast of British Columbia.  They must survive the elements and dangerous wildlife as they try to find help.  This was another movie we watched with our grandkids who bot gave it two thumbs up.  It is available on HBO.
Beethoven
Both are girls loved this movie growing up and it is now enjoyed by our grandchildren.  How can you not love Beethoven the Bernard?  The movie is full of laughs and anyone who has raised a large dog will relate.  Charles Groden plays George Newton, a workaholic father who is less than thrilled with owning a dog and needs convincing by his children.  Beethoven and its sequel movies are available on Amazon and Hulu.
Hachi
Hachi is based on a true story of the love and devotion between a man and a dog.  Hachi faithfully waits for his master every day at a bus stop even after his master passes away.  We recommend having a few tissues close by for this movie.  It's available On Demand from STARS, Amazon Prime and other streaming sites.
Art of Racing in the Rain
Based on a book from 2008, I almost didn't watch this movie.  The book had me in tears and the movie did as well.  This 2018 movie is narrated by the dog and follow his life with a formula driver.  The dog is there as his master finds love, starts a family, and experiences tragedy.  As the dog nears the end of his life, he remembers a belief that once a dog dies, they are reincarnated as a human.  He is excited for his next journey.  This movie is available On Demand and on most streaming services.
Honorable mentions
As you can imagine, the team at Old Dog had A LOT of suggestions for favorite dog movies.  Here are some other honorable mentions:
Marley & Me
A Dog's Way Home
My Dog Skip
8 Below
Air Bud
Love Leads the Way
Shiloh
Milo & Otis
Homeward Bound
The Adventures of Winn Dixie