Let's talk plants!!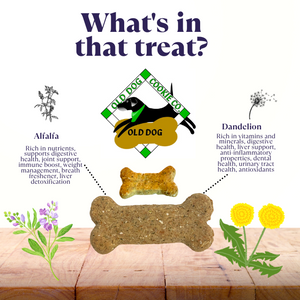 Herbs have been used successfully for centuries to treat injury and diseases in animals. The therapeutic value of plants is well documented.  Herbs are highly nutritious, providing essential vitamins, minerals and other nutrients to your pet's diet.  These powerful plants have been the bases of our products for over 25 years.
Let's take a look at just a few of the powerful herbs we use in our treats:
Dandelion Root: (in our Diabetic treats)
Dandelion helps reduce amounts of sugar in the blood

Dandelions are rich in Vita

min A, C and K as well as calcium, iron and potassium
Dandelion has been used for centuries in traditional medicine to aid in digestion. Dandelion acts as a prebiotic and probiotic.  This means our treats are gentle on a dog's tummy.
Dandelion helps support liver health and function.  The liver plays a key role in detoxification, metabolism and nutrient storage and supporting its health is can be beneficial to your dog's overall health
Dandelion has anti-inflammatory properties which may help reduce mild joint pain and other inflammatory conditions
Dandelion can help neutralize harmful free radicals in the body
Dandelion has diuretic properties meaning it may be helpful to those dogs prone to urinary tract issues
last but not least, dandelion may help promote dental health by reducing plaque buildup
Alfalfa: (in both our Arthritis Relief treats and Diabetic treats)
Alfalfa contains natural compounds that may alleviate joint pain and inflammation along with minerals with may help with regenerating bones and connective tissue
The fiber content in alfalfa can aid in digestion and helps maintain a healthy gut
Alfalfa is low in carbs and may aid in weight management 
Alfalfa may act as a natural breath freshener
Nutrients in alfalfa can contribute to healthy skin and coat for your dog
Properties inside alfalfa help the kidneys to balance out urine that may be too acidic so it's useful in helping with kidney and bladder infections.
Why herbs?  Herbs have been used for thousands of years to add flavor, as medicine and as preservatives.  While the specific ingredients in our treats have been helpful for dogs with joint issues, ACL issues, diabetes, cushings, and  pancreatitis we went to spread the word that our treats are a healthy option for any dog at any age.  With an estimated 1 in 300 dogs developing diabetes its never too early to start your dog on a low calorie, all natural, nutrient rich treat!
*Note: as a reminder we encourage all pet owners to consult with their vet if they have questions about incorporating new ingredients into their dogs diet, especially if your dog has pre-existing conditions.