The Old Dog welcomes a new dog!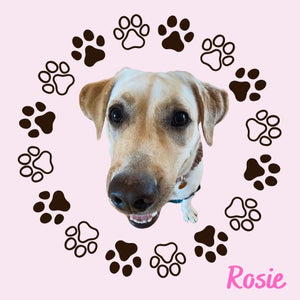 With the month of October being Adopt a Shelter Dog Month our Old Dog owners felt it was time to add a new member to our staff!!  Last August with a very heavy heart we said good bye to our senior Old Dog and Chief Taste Tester, Spirit who was 14.  Although our Old Dog founders enjoy time spent with their "grand-dogs", Olive (12), Lola (3) and Moxie (2) they felt one last dog was in the cards.  Since labs have a special place in their hearts they went right to a lab rescue site.  It was on the New England Lab Rescue site that they found Clementine.  This sweet girl was in a need of a home as her owner was ill. 
On 10/4/22 "Rosie" officially joined the Old Dog Cookie Company.  Our Old Dog owners have always given their Old Dog's a name reflective of our beautiful Maine state and the dog before them.  If you know Maine, you know that the "Beach Rose" is a common plant that lines our shores.  We are not sure why, but this was also one of Spirit's favorites, both to dig and eat. With many Beach Rose plants at the very site of the Old Dog Cookie Company we thought it was only fitting that our new sweet girl be renamed "Rosie". 
We are all still adjusting to the addition of another pup around the office and Rosie has a lot to learn as she takes her place as Quality Control, UPS/USPS greeter, Taste Tester, and Social Media Dog Model.  Thankfully our low calorie Old Dog Tiny Treats are coming in handy for all her training needs.  Rosie loves living at the beach, going on walks, playing with toys and the comfort of sleeping in bed with her new mom and dad.  
We are very thankful to NELRC for selecting us to be Rosie's new pet parents, Rosie's foster family who cared for her while she was awaiting a home, those that transported her to New England and especially her previous pet mom whom we know loved her dearly.  We promise to take very good care of your girl and give her a very good life!
October is "Adopt a Shelter Dog Month" and while adopting a dog this month was unplanned, adopting a slightly older dog from a rescue organization was our intention.  People have unfortunate circumstances that can sometimes result in having to leave a loved pet behind.  While puppies are fun, shelter dogs can also have many advantages!  Rosie is potty trained, does not chew, sleeps through the night and can be trusted when left alone.  She is still young enough to be active and provide years of love.  It's not for everyone but adopting is a great choice for some.  We hope to bring awareness this month to Adopt a Shelter Dog Month with our story of Rosie.  If you are looking to add a dog to your life please check out your local Animal Shelter or check out the ASPCA's Adopt a Shelter dog article for links to local shelters and further information.  Our nest and hearts are feeling full these days with 4 Old Dogs and 1 foster.  To all the Old Dog clients that have also adopted a pet in need, thank you for being a hero!!
 Our foster dog, Zerg is still looking for a fur-ever home.  He's a sweet boy and his profile can be found here (#51213950) with the Baltimore Animal & Rescue & Care Shelter He's currently located in MD with one of our Old Dog college students.  We are happy to provide information on Zerg.  Please call us at 1-888-334-9DOG or email us at  info@olddogcookie.com and of course we will supply a bag of Old Dog treats if he's adopted.