Give a dog a bone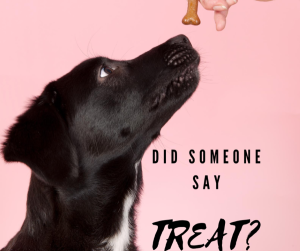 People regularly ask us, "how many (Old Dog) treats should I give my dog?"  This can actually be a tricky question to answer.  The answer can depend on several factors like the size and health of your dog.  Do you have a small or big dog?  Are they young, old, are they active, or overweight?  Do they have any health or dietary issues?  What size is the treat - a small training treat or an over sized cookie?  How many calories is the treat?
Veterinarians generally recommend less than 10% of a dog's caloric intake come from treats.  Spirit, our senior Black Lab  who is about 70 lbs is limited to 3 of our regular size Arthritis Relief Dog Treats or 48 calories per day.  My daughter's dog, Lola is a 10 month old, active, Welsh Corgi who weighs about 20 lbs. Lola likes our Tiny treats  and gets about 10-15 treats a day, or 20-30 calories a day from treats.
At the Old Dog we sell our REGULAR size treats in both Arthritis and Diabetic options.  These treats are 2.5 inches long and about 16 calories each.  We also offer a TINY size treat in the diabetic option only.  Our Tiny treats are 1 inch long and 2 calories each.  When it comes to your dog, always consult with your dog's vet for dietary advice.  They know the health of your dog and can give specific recommendations.  It's important to remember that dog treats should not be used as a substitute for a balanced diet.  They are meant to be treats only.  Giving your dog too many treats can lead to health and weight issues.  
WHEN TO GIVE DOG TREATS?

Most dog owners limit treats to specific times of the day or activities.  One of our friends only uses treats when her dog goes into their crate, another to uses treats as a reward when her dog stops barking.  I give Spirit a treat after her morning walk.  In the summer Spirit walks with several of her friends and at the end of the walk all the dogs sit patiently for a little reward.
When the grand kids are here, they like to sneak a treat and give it to Spirit so before they come I often break up the regular size treats into 2-3 pieces.  This way she can get "extra" treats without overfeeding her.  A win win for the kids and Spirit!
When you are training a puppy or dog you might want to use treats to help reward positive behavior.  In this case, you only want small kibble size rewards.  Our Tiny Diabetic Dog Treats are great for this.  Don't be fooled by the name either, these treats are great for ANY dog of ANY age!!  My daughter, Kristen uses these as training treats for Lola, our latest Old (new) Dog.  Kristen uses our Tiny treats to reward Lola for good behavior.  
 HOW MANY TREATS SHOULD I GIVE MY DIABETIC DOG?
If your dog has diabetes, you should first consult with your vet about your dog's diet.  You typically don't want to introduce any new treats until your dog's glucose levels are under control.  
In general, most diabetic dogs can have treats (consisting of less than 10% of their daily caloric intake). You will need to select a treat that does not have added sugars or other highly processed ingredients that might impact glucose levels.  Our Diabetic Dog Treats are a best seller and specifically formulated with natural ingredients to help lower blood sugar.  You can read about our ingredients and learn how grains & carbohydrates affect diabetes in another blog we posted. 
 When we started the Old Dog Cookie Company, our black lab, Jetty had diabetes.  We know how hard it is to care for a diabetic dog.  We use to give Jetty a treat after each insulin shot.  The treat did not interfere with her glucose levels and they made the shot process just a little easier for everyone.
We routinely hear from customers that they give an Old Dog diabetic treat in between meals.  This can sometimes help maintain glucose levels throughout the day.  Some customers also crush our diabetic treats on top of their dogs food to get them to eat before shots (this is more the case with picky eaters).  
Lynn, one of our satisfied diabetic customers gives her dog Katie an Old Dog diabetic treat as a reward for getting her eye drops put in.  "Katie has been diabetic for six years.  She loves Old Dog diabetic cookies.  She had cataract surgery and now has glaucoma and we use the cookies as a reward when she gets her drops.  Since she is on a strict diet, we love being able to give a treat without worrying about throwing her insulin off."
So as you can see there is a lot to take into consideration when addressing this simple question.  At the end of the day please remember that treats are meant to be just that - a treat.  It's hard not to use a treat to show your love, and resisting those puppy dog eyes are hard too but we must be smart pet parents about giving treats.  Considering other ways to show your love; an extra walk, ride in the car, and time together can mean just as much to your furry friend!  If you are still not sure how many treats to give, your vet can give you specific guidelines.