Diabetic Dogs, Cataracts and Canine Eye Health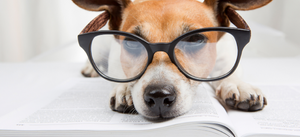 April 2019
By Jef Bucknam
A common problem as dogs age (and people for that matter) can be cataracts or cloudy lenses.  If your dog is diabetic, cataracts and even blindness can come on very quickly.  I've seen reports that 75-80% of dogs develop cataracts in the first year of being diagnosed with diabetes.  
Based on personal experience and the anecdotes from our customers, I know first hand how true this is.  Our diabetic dog, Jetty had cataracts and surgery helped maintain her vision (while limited) in her later years.  With a healthy diet, insulin and exercise Jetty lived for 16 wonderful years.
While some breeds of dogs are more susceptible to cataracts (Smooth Fox Terriers, American Cocker Spaniels, Havanese, Bichon Frise, Silky Terriers, Miniature & Standard Poodles, Miniature Schnauzers, Boston Terriers, Labs), diabetes is a leading cause. 
If your dog has diabetes, be on the look out for these common signs of canine cataracts:
Bluish-gray, opaque, or cloudy eyes  
A sudden reluctance to climb stairs or jump on furniture
Clumsiness
Eye irritation/redness, discharge or blinking
Rubbing or scratching of the eyes
It is recommended that at the first sign of cataracts, dogs are seen by a veterinary ophthalmologist for the best outcomes.  To find a veterinary ophthalmologist in your area, contact your local vet or visit the American College of Veterinary Ophthalmologists Site.  The ophthalmologist will work with you to determine the best treatment.  
Customers regularly share with us their stories and experiences caring for a diabetic dog.  Recently we received a heartwarming e-mail from Dr. Terri McCalla, a veterinary ophthalmologist at Animal Eye Care in Bellingham, Washington.
She says that her practice sees many dogs blinded by diabetic cataracts.  After being introduced to Old Dog Cookie Company by one of her pet owners, she has been providing Old Dog Diabetic Cookies to her diabetic patients (as well as to her obese patients).
"I have many diabetic patients (dogs) blinded from diabetic cataracts.  While most of these patients are able to have their vision restored with cataract surgery, it is not just surgery that they need....they need good nutrition including healthy, safe snacks.  During ophthalmic examinations, I and my staff like to give treats to our patients.  We could not give optimally healthy treats to diabetic dogs until I learned about Old Dog Cookie Company's Diabetic Cookies.  Ever since, I have been stocking these treats.  The treats are palatable and nutritious.  I am glad to know that there are now two different sizes of these treats for both small and larger dogs." ---Terri L. McCalla, DVM MS DACVO
 We'd like to thank Dr. McCalla for your kind words and the work you do to restore sight in so many in our diabetic community.  
Although our Diabetic Cookies were designed with herbs to boost immunity and regulate blood sugar, many of our ingredients support healthy eye function too.  Pumpkin is packed with beta carotene and Vitamin A.  Garlic is important for the production of glutathione an important protein that acts an antioxidant for the lens of the eye.  Vitamins A, C, and E are also essential for eye health and can be found in our rolled oats, brewers yeast, stone ground whole wheat flour and our pure (unsweetened) applesauce.
If your dog has diabetes be sure to talk with your vet about proper treatment, nutrition, and signs to watch out for regarding eye health.